Homestyle Christmas is just THREE weeks away! Mark your calendars for the most wonderful event of the year!
LCS would like to wish our students, staff, and families a safe and enjoyable Thanksgiving Break!
Thank you to our local businesses, organizations, and individuals who are showing their support for LCS teachers and staff during American Education Week! Want to show your appreciation? Swing by Central Office (321 Armory Ave. in Ripley) tomorrow or Friday for a yard sign, while supplies last!
It's #EPSOWeek2023! See how Lauderdale County Schools' Diploma Plus Initiative connects students of all ages to postsecondary opportunities!
https://youtu.be/he9sS9Q5XYk
Join us on Friday, November 10, for the Veterans Day Celebration! The parade begins at 10:00am on the downtown square!
November 6-10, 2023, is National School Psychology Week. Lauderdale County Schools is fortunate to have Ms. Maria Leforgee, Ms. Jenny Gaines, and Ms. Olivia McCorkle serving students throughout our district. In their roles as school psychologists, they work closely with students, educators, and families to support the academic achievement, positive behavior, and mental wellness of all students, especially those who struggle with barriers to learning. We appreciate their dedication and service to the students of our community!
We've been updated! Be sure to visit the iOS or Google Play store to update the LCS mobile app today!
Teachers from Lauderdale County Schools' 21st Century Community Learning Centers (CCLC) and LEAPS before- and after-school programs attended professional development session on Tuesday, October 31. "What First Year Teachers Need to Know", facilitated by Mr. Texas Culver of UTM- Ripley's Education Department, provided opportunities to discuss UTM's Educator Preparation Program (EPP) design for undergraduate students pursuing careers in the field of education. These experienced teachers were able to share about their first year teaching experiences and provide recommendations for curriculum design that would best support these future educators. Many ideas, thoughts, and perspectives were shared with Mr. Culver for consideration during UTM's EPP curriculum development process to ensure that first year teachers are successful from their first day of school through their careers.
As a reminder, Lauderdale County Schools will not be in session on Wednesday, November 1, 2023, due to staff Professional Development.
Due to staff Professional Development, Lauderdale County Schools will not be in session on Wednesday, November 1, 2023.
Music stimulates Learning Research shows that music reduces stress while stimulating happiness, which in turn helps students better concentrate on the task at hand, especially when learning. With this knowledge, Mr. Tommy Durham, Site Director for the Project LEAD program, invested in electronic keyboards for Ripley Elementary School students. Almost twenty years later, these keyboards are still a favorite among students in the after school program. The program team hopes this new music genre will increase student focus and inspire creativity.
BUS UPDATE - OCTOBER 26 Bus 45 and Bus 20 will not run afternoon routes or tutoring routes TOMORROW (10/26). Families, please make alternative arrangements for student pick up tomorrow afternoon.
Officers from the Lauderdale County Sheriff's Department and Halls Police Department recently met with LCS school and district leaders for the quarterly school safety meeting. This collaboration is part of a continued effort to ensure a consistent vision and purpose for school safety operations and procedures exists among all entities. LCS is appreciative of this continued partnership with all Lauderdale County law enforcement agencies.
Come out to the "Living Healthy in Lauderdale County" Health Fair on Saturday, October 28th at Ripley Elementary School. UT Health Science Center students and faculty will be on site to provide information on diabetes, car seat safety, mental health awareness, and much more. Health care professionals will also offer blood pressure checks, glucose screenings, dental exams, and other assessments.
LCS families - Do you need support with Rooms, our new family-school communication platform? Join us for Rooms Family Night on Oct. 23rd or Oct. 24th from 5:30-6:30PM. Scan the QR code to RSVP!
Lauderdale County Schools will observe Fall Break next week, October 9-13, 2023. Students and employees will return to campuses on Monday, October 16. We hope all of our Tigers have a safe and enjoyable Fall Break!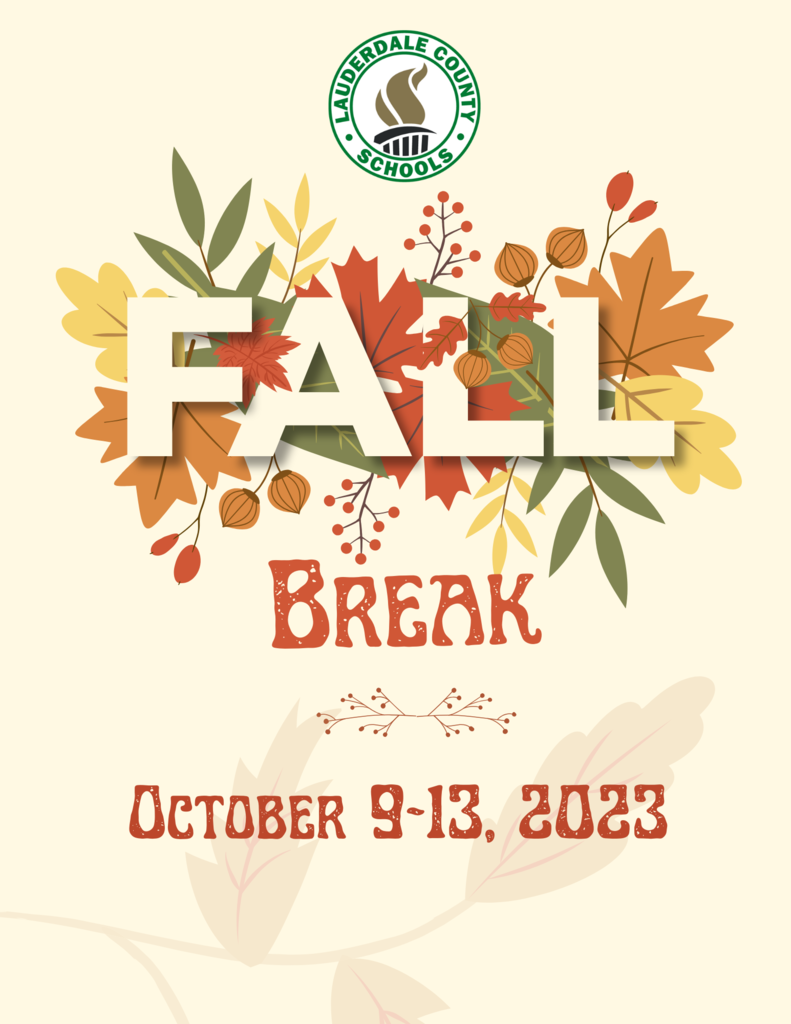 LCS families - do you need support with Rooms, our new family-school communication platform? Join us for Rooms Family Night on Oct. 23rd or Oct. 24th from 5:30-6:30PM. Scan the QR code to RSVP!
Our next #LauderdaleProud feature is Elizabeth Buffaloe Eskridge! Elizabeth Eskridge graduated from Halls High School in 2002. She continued her education at the Tennessee Technology Center - Ripley where she earned her Licensed Practical Nurse (LPN) credentials. After a decade of working as an internal medicine and pediatric nurse, Elizabeth transitioned into entrepreneurship by opening The Sandbar & Honeyhole Co., a local tanning salon and gift shop. When asked about her favorite part of her career, Elizabeth said: "Owning and operating a spray tanning business is just pure fun! There's nothing more rewarding than seeing the astonished face of someone I've spray tanned for the first time. I love making women and men feel better about themselves. It's a very rewarding feeling." We are #LauderdaleProud of you, Elizabeth!
Our next #LauderdaleProud feature is Jasmine Dowell! Jasmine Dowell graduated from Ripley High School in 2011. She continued her education at the University of Tennessee at Martin, where she earned her bachelor's degree. She is currently pursuing her Master of Education degree at Union University. Jasmine is currently a 7th Grade ELA Teacher at Jackson Career and Technology (JCT) Middle School in Jackson, Tennessee. Her favorite part of her career is connecting with students and watching them achieve academically. Jasmine has previously served the Lauderdale County community as an Early Childhood Coordinator for Save The Children and the Brownsville/Haywood County community as the Director of the 1 Safe Place family justice center. We are #LauderdaleProud of you, Jasmine!