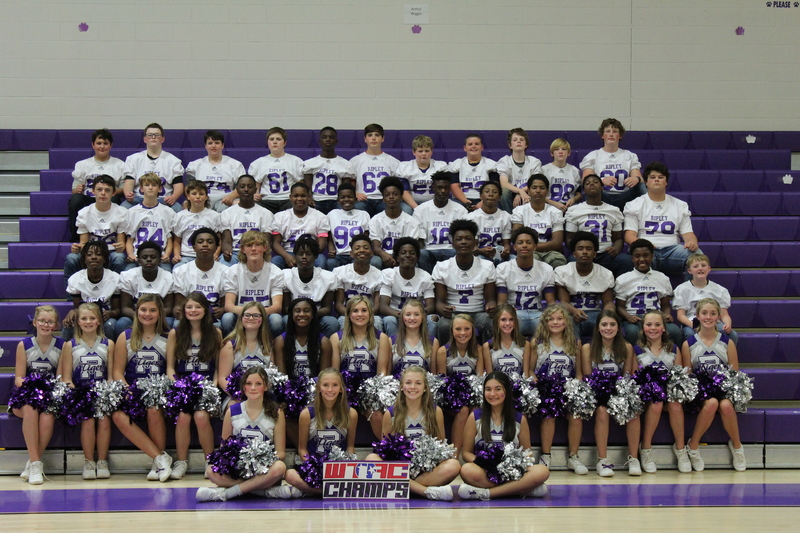 Ripley Middle School and Lauderdale County Schools honored the Ripley Middle School Tigers Football and Cheerleading teams following the WTAC Championship win this past Tuesday night. Thursday's celebration included a banquet cookout and featured several guest speakers and coaches. The cookout was followed by a parade through RPS, RES, and RMS campuses. The event was a big success and we are so thankful for everyone for all their support.
Shortly after their meal, Ripley Middle School principal Cindy Anderson addressed the student athletes, followed by Superintendent Shawn Kimble, City of Ripley Mayor Craig Fitzhugh, RHS Head Football Coach Justin Cruz, and RMS Football Coaches Austin Thompson and Hunter Dixon.
After each of the above members addressed the student-athletes, the teams were led out of RMS by county School Resource Officers, the Ripley Police Department, and the Ripley Fire Department. Students at all three schools had a great time getting outside and rooting on the Tigers as they passed by each school. Additionally, Highway 19 was filled with fans and other community members as they cheered on the RMS cheerleading and football squads.
Ripley Middle finished their season 8-2. They won their last two district games to put them into a three-way tie for 2nd place in the regular season standings. In the first round, the Tigers hosted Munford and had an impressive 30-8 win which advanced them to the WTAC championship game. In the championship game, they were able to overcome a 0-14 4th quarter deficit to win in thrilling fashion in overtime by a score of 22-14. This conference championship was the Ripley Middle Tigers' first middle school conference championship since 1993. Congratulations to all the Ripley football players, coaches, cheerleaders, and all the community members who supported this team every step of the way.
Ripley Middle School would like to send a sincere thank you to the following individuals for making our celebration a success:
· Ann Chipman
· Justin Cruz, RHS Football Coach
· William Crawford
· Chantay Dupree and Ripley Primary School
· Craig Fitzhugh, City of Ripley Mayor
· Maurice Gaines, Lauderdale Co. Mayor
· Danny Hartsfield
· Mindi Hearn
· Rose Heath
· SRO Hopkins
· Shawn Kimble, Superintendent
· SRO Morgan
· Ripley Fire Department
· Ripley Police Department
· Dustin Rose
· Austin Thompson
· Carole and Todd White
· Teresa White and Ripley Elementary School
· Brian Yarbro, Asst. Superintendent
· Donnie York and LCS Maintenance Department

Ripley Middle School Administration is appreciative of the support from our faculty, staff, students, and community!