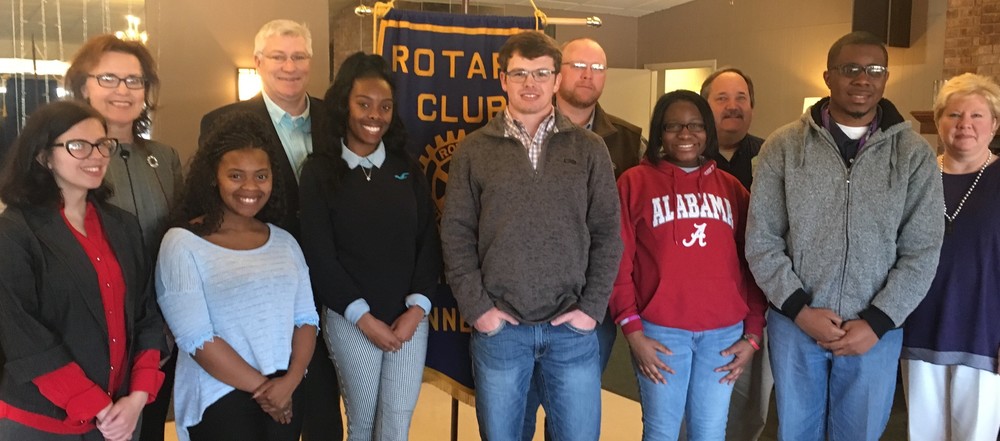 Ripley and Halls High Students participate in job shadowing experiences
Ripley High School
Friday, March 22, 2019
Students from Ripley High School and Halls High School that participated in Job Shadowing were lunch guests of Ripley Rotary on Tuesday, March 19, 2019. The students were accompanied by a representative from the participating business.


Pictured from L to R:

Emma, General Sessions Judge Janice C. Craig, and Taiveyell
Following high school graduation, Emma plans to seek a degree in Sociology. Taiveyell will pursue a degree in Criminal Justice. Emma and Taiveyell observed as Judge Craig presided over court proceedings and rendered decisions in the court.

Mayor Maurice Gaines, ShanTia
ShanTia reported that she will study accounting upon graduation and enjoyed learning about all the responsibilities of the Mayor's office.

Seth, Lauderdale County Highway Commissioner Derek Kissell
Seth spent the day with Derek Kissell, Lauderdale County Highway Commissioner. Seth, who plans on pursuing an Engineering Degree spent the day learning about responsibilities of the department, observing recent road damage caused by flooding, and the plans for repair.

Mya, Ripley Rotary President Lee Johnston
Mya visited in the Dispatch Department of the Lauderdale County's Sheriff's Department. Ripley Rotary President Lee Johnston who coordinated Job Shadowing Day enjoyed hearing from Mya and all the students. Mya shared with Rotarians that the Dispatcher was very busy and had lots of responsibility. Mya is a Junior in High School and will finalize her educational goals soon.

Mon-E, Jodie Edwards
Mon-El job shadowed at the Lauderdale County Circuit Court Clerk's Office with Jodie Edwards. He plans to pursue a degree in Criminal Justice or Political Science. He thanked the group for the opportunity to spend the day learning about the Circuit Court Clerk's Office.

Job Shadowing is a short-term educational experience which introduces students to a particular job or career by pairing the student with an employee of a business, industry or agency. By following or "shadowing" that employee, the student becomes familiar with the duties associated with that occupation, the physical setting of the occupation, and the compatibility of the occupation with his or her own career goals. By providing a relevant experience outside the classroom, employers are able to contribute to the education of youth and help prepare students for future career opportunities.